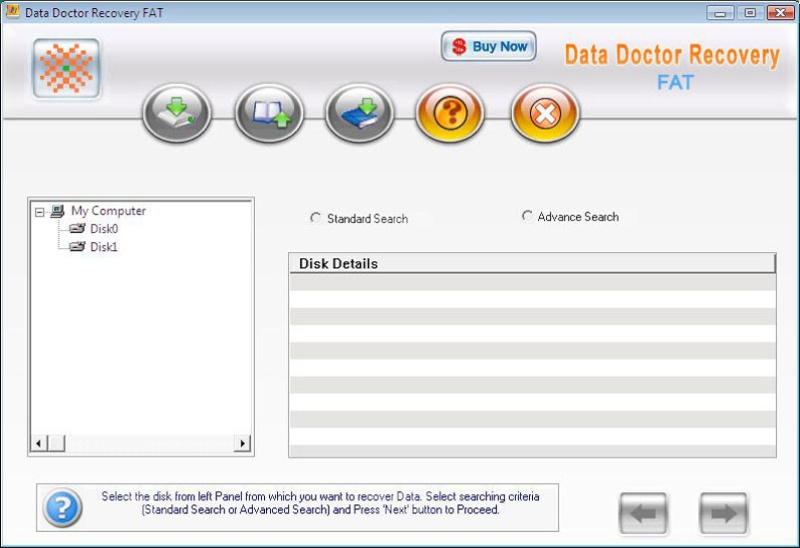 FAT Data recovery software
Windows FAT Data recovery software is easy, safe, Read-only and Non-Destructive Data recovery software tool for windows FAT file system based operating system to recover, retrieve and restore lost, deleted, formatted, erased files and folders from disk partition crashed hard drive.
Windows FAT data recovery software is file recovery tool to recover deleted files, folders pictures in all windows partition volume of crashed hard disk drive. Windows FAT data recovery utility is used for the retrieval of partition, table boot sector, formatted, lost, deleted files of laptop and desktop system. It is undelete, unerase, unformat utilities and available for free download on our website.
Windows FAT data recovery software for Windows FAT partition recovery is quick, simple easy to use with extremely attractive Graphical user interface (GUI) and helpful software utility tool for restoring lost or deleted partitions, files and folders.
Data Recovery Software for Windows FAT partition recovers data files and folders lost due to deleted/formatted/damaged/corrupted partitions from FAT based operating systems such as Windows 95/98/ME/2000/XP/2003/Vista.
Hard Drive Data Doctor Recovery is users licensed to use the software for Lifetime without any Renewal and there is no restriction of Number of machines on which software can be installed.
Software Features:
Best Graphical user interface (GUI) for easy and quick data recovery.
In-built step-by-step data recovery help.
Recovers data lost due to overwritten, deleted, formatted, damaged or corrupted partitions in all logical crashes.
Also Recovers Data from previously Existing Partitions.
Recover data even from Bad sectors affected storage media.
Helpful in computer Forensics!
Long File Name files and Folders recovery support.
Support for FAT VFAT FAT12 FAT16 FAT32 file systems.
Recovers deleted files and folders even after use of (Shift+Del) key and emptied recycle bin, lost/missing/deleted partition formatted logical drives, missing or lost files and folders.
Multi storage support (up to 128 storage media at a time) for hard disks including all IDE, SATA, EIDE and SCSI disk devices.
This Software is Register...Then Free For MUMBER......
Download !
RE
~~~~~~~~~~~~~ GSM MAMA

~~~~~~~~~~~~~~~~